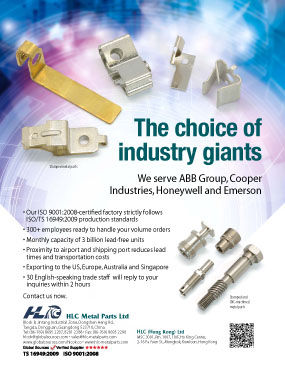 Share:




E-mail

Print

Bookmark
Hunan HLC Metal Technology Ltd

Follow me

We serve ABB Group, Cooper Industries, Honeywell and Emerson

300+ employees | 3 billion units monthly | Volume orders accepted

6 Star China (mainland)
New Inspection Equipment

In order to improve our quality, we have 3D coordination and RoHS Directive compliance. We also have 2D measuring machines, Wei hardness testers, Luo hardness testers, digital torque meters, color meters, coating thickness indicators and salt spray testing cabinets.
More Information
Contact Details




Hunan HLC Metal Technology Ltd
Jintang Industrial Zone
Dongshen Heng Road
Tangxia Town
Dongguan
Guangdong
China 523710
Tel: (86 769) 86952287 (86 769) 82012288 Ext : 813
Fax: (86 769) 86952290
Mobile: (86) 15322912274


E-mail:

Homepage Address
http://www.globalsources.com/hlc-ec.co
Other Homepage Address
www.hlc-metalparts.com


Chat with supplier using:

Key Contact:
Ms Lee, Linda
Sales Manager
Sales Department



Supplier and product information updated December 09, 2013.
Verified Business Registration Details
Registered Company: 湖南省和力诚金属科技有限公司
Business Registration Number: 430681000014499
Company Registration Address: 湖南省汨罗市黄柏镇新龙村安乐组


* In some jurisdictions, company names and addresses are registered in Chinese only.